Insulated Subfloor Installation in Near Quincy, Kirksville, Macomb
We can prepare your basement for dry, comfortable, long-lasting floors

See what makes this insulated subfloor a smarter solution for preparing your basement floors for finishing.
When finishing or remodeling your basement, the choice of flooring will be one of the most important decisions you make.
No matter what type of finished flooring you choose, it's important to install a basement subfloor that provides insulation value, along with resistance to mold and moisture damage. These qualities are critical because of basement conditions: moisture from the slab (or from other sources, like water leakage) that can lead to mold and wood rot, and heat loss through the slab that can make your finished floor uncomfortably cold.
ThermalDry® Insulated Floor Decking™, installed by Bix Basement Systems, offers many advantages over traditional plywood subflooring.
Contact us for an in-house consultation and free installation quote! We are your local basement finishing experts, serving Quincy, Macomb, Kirksville and many areas of Illinois, Iowa, and Missouri.
Advantages of ThermalDry® Insulated Floor Decking™
No damage from mold or moisture. ThermalDry® Floor Decking contains no organic, moisture-absorbing material, so it won't attract mold or be damaged by moisture.
More basement headroom. Thanks to ThermalDry®'s low profile, you save a full inch of ceiling height compared to a built-up wood subfloor.
Cold protection. ThermalDry® decking has a continuous layer of rigid foam insulation to ensure that your finished floor surface will be warm & comfortable.
Versatility. Use ThermalDry® decking as a subfloor treatment beneath all types of finished flooring.
Quick installation. Decking panels interlock with tongue-and-groove joints, and don't require fasteners.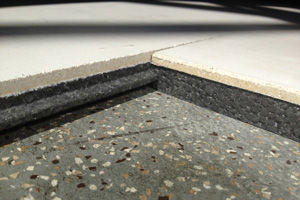 Insulating performance. ThermalDry® Decking is comprised of SilverGlo™ rigid foam insulation combined with magnesium oxide underlayment board.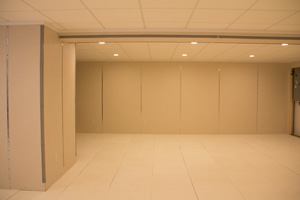 Best subfloor surface. Made with inorganic materials and superior insulation, ThermalDry® Decking provides a warm, dry surface for your finished flooring.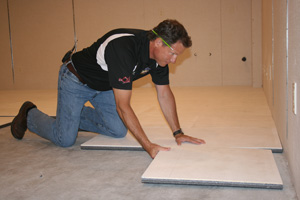 Expect a faster finish. ThermalDry® insulated basement subflooring comes in 2-ft. X 4-ft. panels that interlock without fasteners.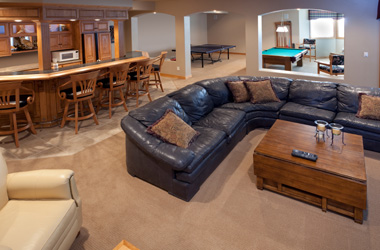 Basement flooring done right. Finished flooring can easily be installed on top of your ThermalDry® insulated subfloor without the worry of moisture or mold ruining your new basement floors.
Avoid problems of installing flooring over concrete basement floors
For many years, contractors have struggled to find suitable basement subflooring. A plywood subfloor (installed on the concrete slab or on wood sleepers) will work well until the wood absorbs enough moisture to attract mold; then the floor will have to be torn out. Wouldn't it be better to avoid this messy and expensive replacement?
By eliminating wood and combining insulation with moisture-proof underlayment, ThermalDry® Decking has all the qualities that other basement subfloor treatments lack.
Contact Bix Basement Systems today to schedule a free design consultation or get a free online estimate for basement flooring and any of our other basement finishing options.
Looking for a price? Get a no cost, no obligation free estimate.