Sinking/Settling Concrete Floor Slabs Near Macomb, Quincy, Kirksville
Causes & Repair Solutions For Cracked, Sinking Concrete Floors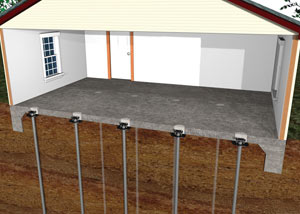 Concrete slab piers being used underneath a floor to help stabilize the floor permanently.
Notice how the piers can extend deep below the floor, extending until they reach competent supporting soils.
The Problem:
Your concrete slab floor is showing signs of sinking, sagging, or settling. Your floor may be cracking, or the walls may be separating from the floor below or ceiling above.
Telltale Signs:
Cracks in the concrete floor
Floors dropping and separating from the walls, forming a gap between the floor and wall.
Interior walls separating from the ceiling, forming a gap between the wall and ceiling.
Walls pulling away from adjacent walls
Interior wall cracks, commonly off the corners of interior doors.
Two options for repairing sinking concrete slabs:
Install a slab pier system that connects the slab to stable soil or bedrock. Once installed, the system makes it possible to re-level settled slab sections.
Raise settled concrete using PolyLevel® expanding foam. Injecting this high-density foam beneath the slab will fill voids and consolidate weak soil while also raising settled slabs back to their original position. Learn more about concrete leveling and what makes PolyLevel® an effective concrete repair solution.
Before and After: PolyLevel® used to raise floor slab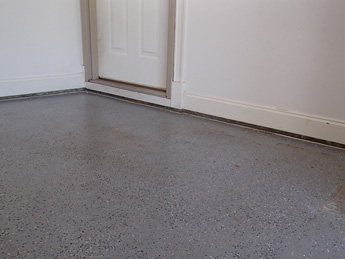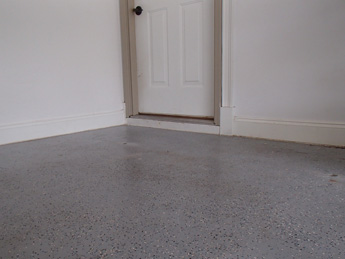 Signs Of Slab Settlement
When a floor slab settles, the damage can manifest itself in many ways. Along with cracks in the concrete, the floors can separate from the walls as they sink downwards. Alternatively, the interior wall may be pulled down with the floor, instead separating from the ceiling. Walls can also pull away from other walls, and interior wall cracks can form -- commonly off the corners of interior doors.
(Click each photo to enlarge.)








What Causes A Concrete Floor Slab To Settle?
When a concrete floor settles, it can mean serious damage to your home. The causes of floor slab settlement are almost always due to the soils underneath being unable to support the weight of the concrete. They often accompany other foundation problems in your home.
The three most common causes of settling concrete floor slabs are as follows:
(Click for more information.)
| | | |
| --- | --- | --- |
| Drying/Shrinking Of Soils Under The Slab | Washout Of Soil Underneath The Slab | Poor Compaction Of Foundation Fill Soils |
Fortunately, there are fast, effective ways to address concrete slab floor settlement issues. if you would like a free foundation slab stabilization quote for your problem, call or e-mail us today!
Installing The Foundation Supportworks Slab Pier System
Foundation Supportworks Slab Pier System stabilizes the concrete floor slab in your home. It provides the best opportunity to relevel the floor and lift non-load bearing partition walls that may have settled along with the slab. To install our system, our contractor will take these six steps: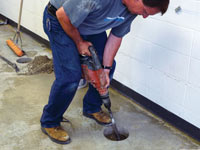 Preparing for Installation
Before the installation day, a representative from our company will have already inspected your foundation issue. At that time, a foundation repair proposal was put in writing.
Your foundation repair experts will use that proposal to map out the locations where the slab piers will be installed.
At the beginning of each slab pier installation, a small hole is cored through your concrete slab floor. This hole will create an access point for the slab piers that are about to be installed.
---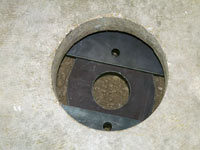 Position Slab Bracket
To give the slab pier something to "lift", a slab bracket is positioned beneath the concrete slab.
The Foundation Supportworks Slab Pier System uses a three-piece slab bracket that is assembled underneath your concrete floor, allowing for a much smaller hole to be cored in your concrete slab. Additionally, this larger bracket reaches across more area along your floor, creating a more even distribution of weight.
---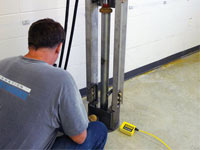 Install Steel Tubes
Steel tubes are hydraulically driven down through the bracket to the competent soils beneath.
These steel tubes are the real strength of the foundation pier system -- and are responsible for transferring the home weight to strong supporting soils.
To prevent corrosion, Foundation Supportworks has slab piers available that are designed using galvanized steel. This ensures the quality and long-lasting strength of your slab pier system.
---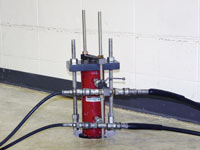 Transfer Slab Weight To Soil
The weight of the concrete slab is transferred through the piers to the load-bearing strata underneath your home.
As the system lifts your concrete slab floor upwards, the sinking movement of your floor will be permanently halted.
Often, it will also be possible to lift the concrete slab back to a level position.
---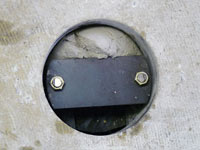 Inject Grout Fill
Once the concrete slab has been lifted, a void will be present underneath the floor.
Additionally, if your floor had been sinking because of compacted soil or washout, a gap existed even before the installation.
To address this, we carefully pump grout under the slab to fill in all empty spaces.
---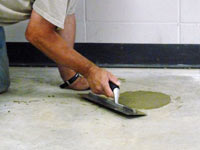 The Cleanup
At Bix Basement Systems, we take pride in leaving your home looking clean and neat. Once the installation is completed, we repair all cored holes with concrete, making your final installation virtually invisible.
Any debris generated during the installation is cleaned up and removed by us. And once we're done, you can rest easy, knowing that you have a 25-year warranty on manufacturer's defects, as well as a performance warranty from us.
What NOT To Do
As with most home repairs, some work all of the time, some work some of the time, and some don't work at all. Here are two "fixes" that we at Bix Basement Systems do NOT recommend: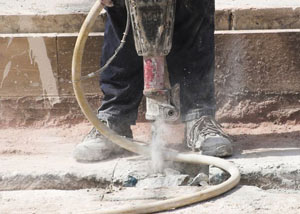 A concrete slab being jackhammered and removed during a floor replacement in Keosauqua. A typical replacement can take several weeks to complete.
Concrete Slab Replacement:
To perform a job like this, all home furnishings, floor coverings, and interior walls must be removed. Then a crew jackhammers the existing floor into small pieces and removes them by hand.
Once this is complete, a new floor is poured and the homeowner must allow two weeks for the grout to cure sufficiently.
The interior partition may be rebuilt, floor coverings may be reinstalled, and home furnishings may be returned.
While this situation is disruptive and expensive, the real problem here is that the issue that caused the problem in the first place has not been addressed. Without addressing the soil problems that lead to the floor cracks, your new floor may "break" over time too!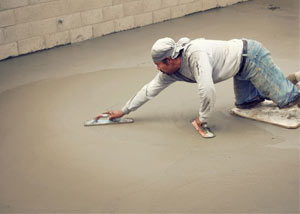 A contractor smoothing out a surface of releveling grout during a concrete slab repair. The previous concrete floor had shown cracks during settlement.
Releveling Grout On Top Of The Slab:
To begin this process, all floor coverings that were placed on the slab must be removed. The floor is then prepared so that grout will be able to bond with the slab surface.
A self-leveling grout is poured along the slab surface, where it begins to fill in the low portion of the floor and create a level surface. After the grout is allowed to cure for several days, the floor coverings can be replaced.
However, if the floor wasn't prepared properly, the grout may not bond well to the surface of the slab, leading to chunks of it breaking off. Additionally, the grout will add weight to the slab, potentially making the situation worse by causing further settlement. And, just like with the last two options, the real problem of soil settlement is not addressed!
Looking For Foundation Slab Repair Contractors In IL, IA, and MO?
At Bix Basement Systems, we provide proven solutions for concrete slab floor leveling -- as well as other foundation repair solutions -- to homeowners throughout Illinois, Iowa, and Missouri. We provide each of our customers with a free, no obligation slab repair quote, in writing, before any work is done. To schedule your appointment, call or e-mail us today!
Our service area includes Quincy, Macomb, Kirksville, and nearby areas such as Peoria, Fort Madison, Palmyra, Fairfield, Rushville, West Burlington, Mount Sterling.
Looking for a price? Get a no cost, no obligation free estimate.